Fred Iltis - South and North of the Border
Biologist, Photographer and Friend
Our memories of a journey on the road in America in 1978 were beginning to fade, but not the photographs that we'd seen and conserved so clearly in our minds, since he'd shown them to us by chance in his basement in San Jose, where he developed his negatives in a bathtub. A very similar house to many others in a suburban neighborhood that today has become quite central and is now populated by mexican-american families that replaced the previous Italian immigrates. There Fred developed and printed his photos using the archival process system by which the prints, if properly preserved, can last for many years.
| | | |
| --- | --- | --- |
| | | |
| In 1978 our friend Fred Iltis had generously lent us his Volkwagen for a trip in California. | On the road in 1978: US-Mexican Border. | The house in San Jose, 1978 – 2008. |
We returned to California in 2008, thirty years later, driven by a nostalgia for his photographs. Fred Iltis was coy when we said we were impressed by the pathos of the images that he'd shot travelling in Mexico and the U.S., south and north of the border. Although he was American, he had never stopped thinking as a European from Mitteleuropa. In fact he was born in Czechoslowakia and had migrated to the U.S.A. at the age of 16. His opinions on society were always critical. He had an allergy for injustice. Therefore there was a kind of immediate sympathy after ringing the bell of his door: a young italian backpacker in front of a man who might have been the same age of his father's. When he touched his photos, both then and in 2008, he would always wear cotton gloves and would handle them as though they were living creatures that must be protected and that are hard to part with.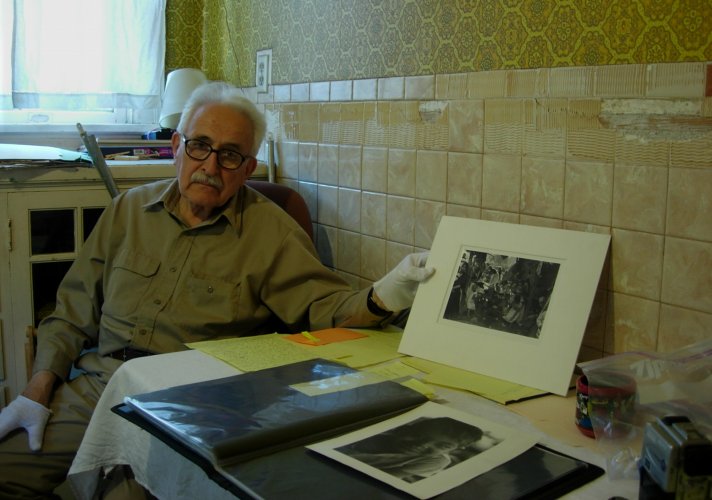 Fred Iltis
Being a biologist, Wilfred Gregor Iltis had a deep knowledge of nature. There's a verdant garden in the back of the house in San Jose that is thriving thanks to California's climate. El jardìn del Tìo Fred. Every day he used to take care of the vegetables with Diana and Alejandro, the Mexican mother and her son that had been a part of the Iltis family since many years.
| | | |
| --- | --- | --- |
| | | |
| Julia Iltis in her younger days. | Young Fred Iltis in a drawing by his wife Julia. | Fred and Lobo. |
Wednesday August 6th. We arrive at San Jose around 3.30 pm. Here we are in Silicon Valley. We've been driving along the scenic Pacific coast road, Highway 1. We are welcome by Fred and Diana and we get to know Diana's nice mother, Sara. Evening in San Francisco: a thick fog covering the view. We drive to City Lights Bookstore, the one of the beat generation poets. Then back to San Jose, sitting at the kitchen's table we discuss on the photos scanning.
| | |
| --- | --- |
| | |
| San Francisco: Fred Iltis (left) at City Lights Bookstore. | Pacific Highway 1 |
Thursday August 7th. With Fred, starting to select about seventy black and white prints. Many of them are from Mexico in the 70s: several portraits of first nation people from Michoacan, their life conditions, their religious habitus like the Semana Santa peregrinaciòn at Capacuaro. During one of those journeys Fred Iltis had known the famous Mexican photographer Manuel Alvarez Bravo.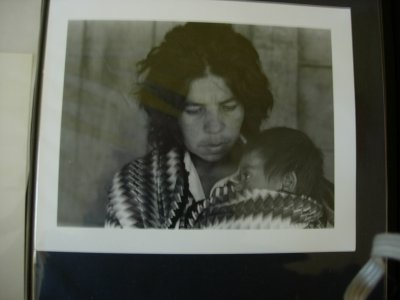 After leaving Europe as a migrant and refugee from the Nazis, Fred Iltis had become a photographer of Mexican indians and migrantes. His photos are also about the civil rights movement in the 60s and the struggle of the chicano agricultural workers that worked for the American fruit companies and were organized in a strong movement by César Chávez and Dolores Huerta.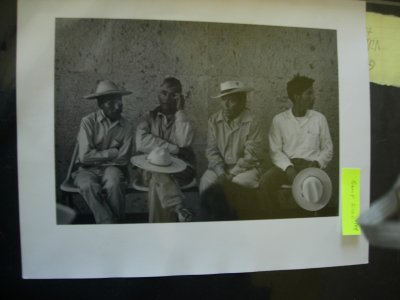 "A photo can express one's ideas and ideals far better than a thousand words" his friend Hansel Mieth had once said to Fred. She was a renowned German born photographer who had illustrated through her pictures on Life Magazine the social drama of the Great Depression of the 30s. What's going to happen with my photos after me? Fred asked us. We answered they might be interesting for some Mexican cultural institution or university. Hansel Mieth's photos for instance had been welcome by the Center for Creative Photography of the University of Arizona in Tucson. We might also think of a dedicated exhibit, maybe in Italy.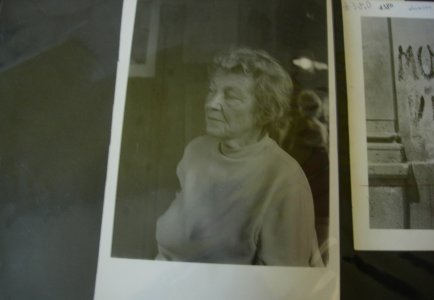 Saturday August 9th. We are going at different speeds, we are struggling against time. Life kind of seems to be going too fast for him. We continue viewing photos and then we go shopping at a street market.
| | |
| --- | --- |
| | |
| San Jose, August 2008: Fred Iltis (left) at street market. | Fred Iltis in his younger days. |
At the age of 85 Fred still had a good memory and he told us about his life.
About his departure from Brno shortly before the Nazi occupation (he was born there in 1923). "While the train was travelling across Europe, I remember the chimneys of the German factories getting ready for the war, they were smoking day and night, while the French only in the day."
His father was a Jewish professor of biology who had also written a biography of Gregor Mendel, the well-known Brno scientist of the laws of inheritance. He and his family had to escape to the United States.
During the war Fred was sent to the Philippines, where he met some exiled Chinese revolutionaries and supporters of the Filipino independence movement. Back in Amer­ica, he abandoned his biology studies for a while and went to work in the steel mills in Ohio. In the years of the McCarthy witch-hunt, he opposed the political misuse of scientific research on mosquitos in Vietnam. Scientists had discovered a connection and supposed com­plicity between young male civilians who lived on the Vietnamese coast and Vietcong guerrillas who lived inland. This was unearthed through the study of particular cases of malaria contagion; these suspected individuals would either be forced to join the South Vietnamese army or be arrested. Fred thought that was a violation of the Hippocratic Oath and refused to collaborate. As a consequence Fred was opposed by the academic milieu.
After hard times he took up again his academic work at the University of Califor­nia in Davis in the 60s and then in San Jose at the time of the student protests.
In December 2008 we knew that Fred Iltis had died.